Posted by Fishbone Knives on 18th May 2017
Shop All Terminator Lures HERE
Creating flash, noise and serious commotion that bass can't ignore, Terminator buzzbaits have features found in no other baits in this class. Little touches like upturned noses so the baits rise quickly, then walk over logs and vegetation without snagging to wider heads that keep them on the top, even on a slow retrieve. Whether you are fishing the indestructible T-1 Titianium with the SnapBack frame, the Super Stainless model or the rowdy Tandem Buzz you will notice the difference on the very first cast … and more importantly the big bass will too! The Original Titanium Buzzbait's huge splash and turned rivet for extra sound make it an awesome topwater bait and a must-have for every bass angler. Titanium SnapBack frame takes a beating and stays true. The Super Stainless Buzzbait is 30% more bend resistant than traditional stainless frames. A flat head design gets it on top of the water quickly. The Tandem Buzz gives off 47% more vibration than ordinary buzzbaits and makes twice the noise and bubble trail.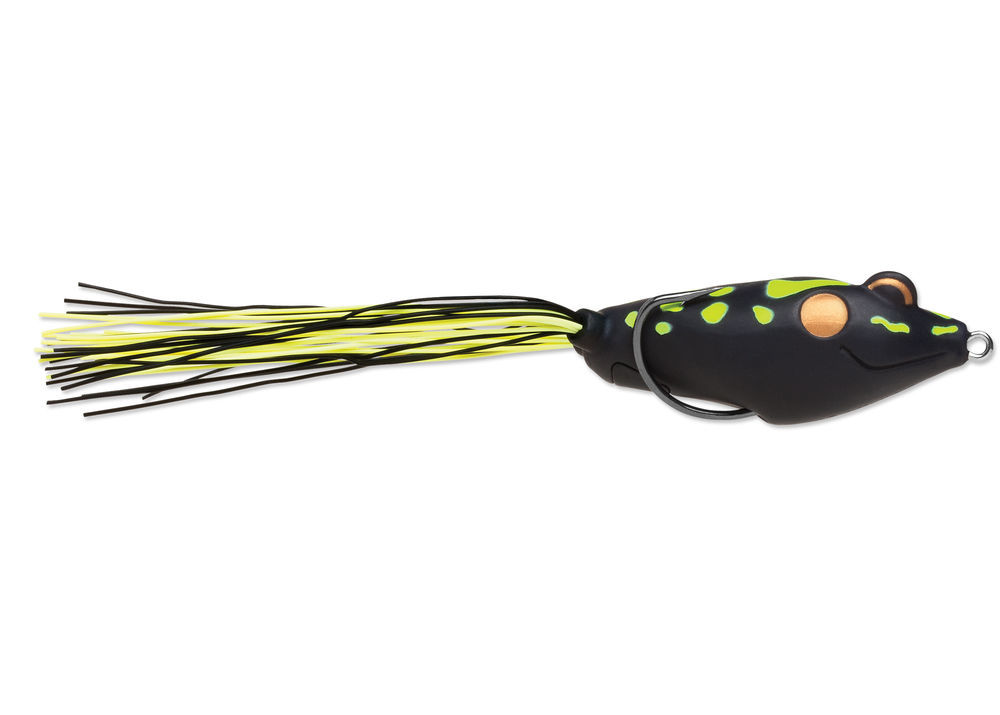 Expand your bass catching arsenal with a Terminator Frog. When the usual go-to lures aren't working, the sound of a frog slapping onto a grass mat might be just the ticket to landing a bass in the boat. Terminator's frog lures won't get hung up so you can hop them through heavy cover and go after the big ones.Terminator's frog lures are exceptional topwater lures that look and act like the real thing. These lures let anglers get into the heaviest cover and gnarliest structure to go after the fish that no one else can get to. Included in the collection is the Walking Frog, featuring a rear-positioned weight and round rubber legs for an easy walk-the-dog and spit action.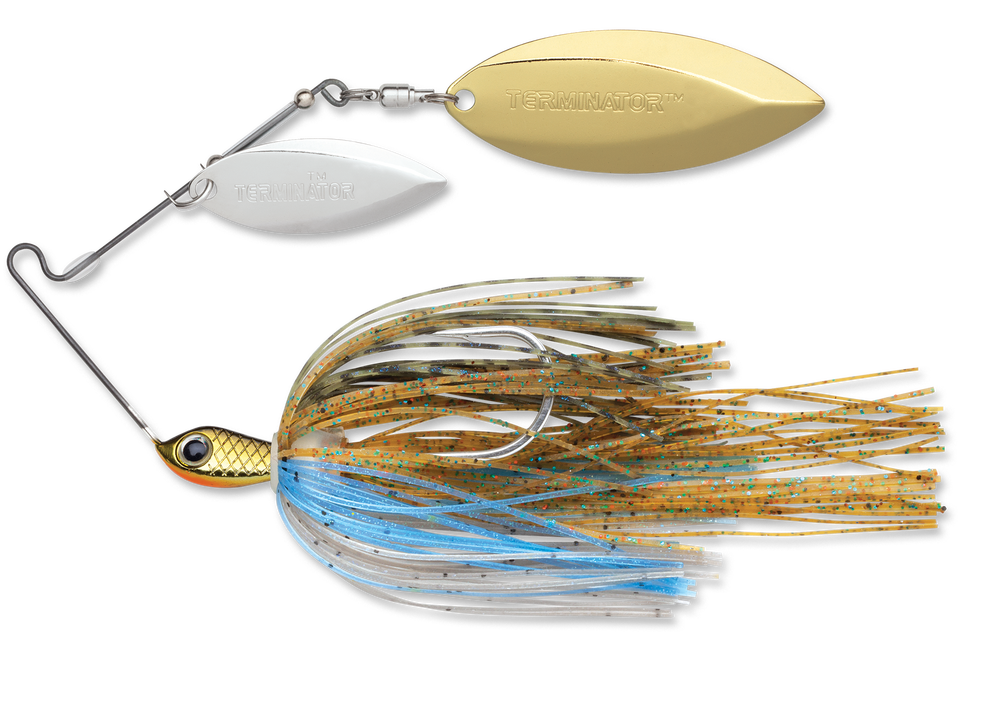 Premium components with a wide selection of design options make Terminator Spinnerbaits the standard by which all others are measured. Recognized by Field & Stream as one of the Top 100 Fishing Lures of All Time, the Terminator Spinnerbait is the perfect imitation of a school of baitfish. From the indestructible T-1 Titanium, Thump'r and Twin Spin Spinnerbaits to the S-1 Super Stainless models each incorporates premium components that really make a difference. QuickSkirt fast change silicone skirts easily let you adjust to the ever changing conditions, while SnapBack Titanium technology means you never have to tune these baits. Constructed with premium plated, beveled-edge blades, VMC hooks and pro caliber swivels these baits are so good, Bass Can't Bust 'em.
Built with the tough Titanium frame these baits are made to burn right through the toughest of weeds without fouling, letting you go after fish no others can target. Oklahoma blades feature intense flash and vibration while the proven plastic trailer adds the final blow with its life-like action on the retrieve. Terminator In-Line Spinners come with 4/0 hooks and are pre-rigged with a soft plastic body. An extra soft body is also provided. Truly snagless, these spinners power through heavy cover and will stand the test of time, thanks to the super tough Titanium frame.
A collection of versatile jigs that let you fish cover and structure without hanging up. Flippin', pitchin' or casting there's a Terminator jig for you. Pro designed skirt color combinations offer traditional patterns to prey species color schemes. The Pro Series Jig is a universal bass jig for flipping, pitching and casting in and around cover. The Football Jig features a unique head design for controlled dragging and a balanced stance—it works in any water depth, sand, gravel and rock bottoms. Tackle heavy cover and stay snag-free with the Weedless Football Jig. The Finesse Jig is designed specifically for slower presentations in deep and shallow water. The balanced swimming head of the Swim Jig lets you swim it or bounce it along the bottom. All the while, the brush guard wards off weeds. All Terminator jigs feature a custom silicone skirt, brush guard (except Football Jig) and premium VMC hook.
Terminator Umbrella Rigs perfectly simulate a small, vulnerable school of baitfish. A rugged coupler minnow head securely locks arms in place and premium snaps and 75 lb. barrel swivels ensure a rock solid rig. Nothing's built better. Nothing lasts longer. Terminator umbrella rigs come ready to rig with your choice of lures, swimbaits, grubs, spinnerbait or jigs. Black nickel finish helps mask the wire and a long center arm imitates a lagging baitfish. Arms collapse for easy storage. The Titanium Rig's patented SnapBack Titanium wire frame provides a long-lasting, non-breaking, consistently shaped spread. The Stainless Steel umbrella rig can be adjusted into multiple configurations so you can simulate a variety of baitfish schools.
Shop All Lures

HERE